Symbiosis believes in ' Vasudhaiv Kutumbakam - The World is One Family' and therefore Dr.S.B.Mujumdar, Founder Director of Symbiosis, decided to erect a memorial and museum of Dr.Babasaheb Ambedkar, a great Son of India who does not belong to a single caste or creed. All Indians have affection and respect for him.
One of the objectives of this museum & memorial is to introduce Dr.Babasaheb Ambedkar, who initiated the movement for social justice and equality in India to the foreign as well as Indian students so as to inspire them when they return to their own countries.
In modern India Dr.Babasaheb Ambedkar was multi-faceted personality, architect of India's constitution, a great social reformer, a humanist, champion of the downtrodden and proponent of national unity. One of the illustrious sons of India, he achieved fame because of his achievements in various areas as leader of the poor, a powerful orator, a constitutionalist par excellence, a jurist, an astute politician, renowned author and the exponent of "DHAMMA CHAKRA". It was he who initiated the movement for social justice and equality in India. As years pass by, his personality is progressively achieving a greater significance. Born on 14th April 1891 at Mahu in Madhya Pradesh, his birth- centenary was celebrated in 1990-91 not only in India but the world over.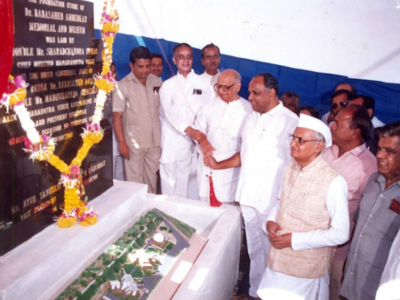 Foundation stone of Dr.Babasaheb Ambedkar Museum & Memorial was laid on 14th April, 1990 at the hands of Mr.Sharad Pawar, Chief Minister of Maharashtra
The foundation stone for this memorial was laid on April 14, 1990 - in the year of Dr.Babasaheb Ambedkar's birth-centenary by the then Chief Minister of Maharashtra Hon. Mr. Sharad Pawar. The Govt. of Maharashtra has granted to Symbiosis about two acres of land to construct this Museum and Memorial on the Senapati Bapat Road. Symbiosis has spent a sum of sixty lakhs to construct the grand Museum & Memorial.
Mr.Dhananjay Datar, a Pune-based architect conceptualised it in the classical Buddhist tradition of architecture and in the shape of stupa. M/s. Raje-Bhate, contractors gave it a concrete shape. The rocky and barren hilly tract surrounding this memorial was given a face-lift by a well-laid out garden. The entire surrounding is replete with greenery. The campus has also an open-air theater where cultural programmes are held from time to time.
Dr. Maisaheb Ambedkar wife of Dr.Babasaheb Ambedkar has generously donated to the museum many of his personal belongings, his memorablia including the urn containing his sacred ashes, the coveted Bharat-Ratna award together with the citation.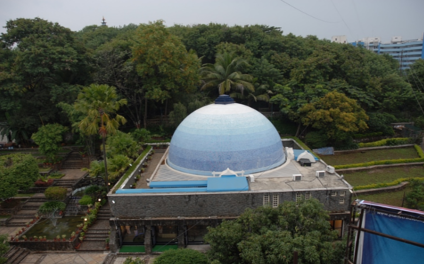 Dr.Babasaheb Ambedkar Museum & Memorial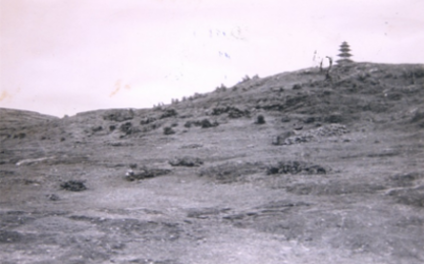 The rocky barren hill in 1989 when it was given to Symbiosis by Govt. of Maharashtra
Aim & Objective
It is hoped that the Museum will promote awareness about the life and ideals of Dr. Ambedkar. In other words, the larger goal is to create a Prerana Bhumi to inspire people to uphold the principles of social justice and equality, peace, and humanitarianism. The Museum boasts a well-appointed garden library and a study centre to encourage visitors to read books related to the work and ideas of Dr. Ambedkar.
This memorial which is now a prominent land-mark in the city of Pune was inaugurated on 26th November, 1996 (the day on which the Indian Constitution was presented by Dr.Ambedkar to the President of India Dr.Rajendra Prasad - 26th November, 1949) by the then Vice - President of India Mr.K.R.Narayanan. Mr.Manohar Joshi, Chief Minister of Maharashtra Presided over the function. The Indian Ambassador to Mangolia, the noted Buddhist religious teacher Kushak Bakula and Dr.Maisaheb Ambedkar graced the occasion.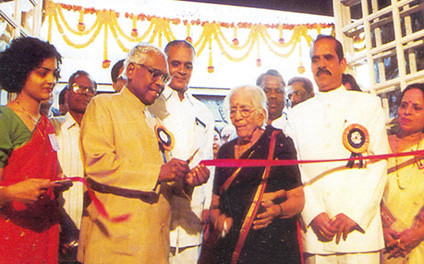 Inauguration of L TO R - Dr.Ms.Swati Mujumdar His Excellency Shri. K.R.Narayanan, Dr.Babasaheb Ambedkar Museum & Memorial Dr. S. B. Mujumdar, Dr. Maisaheb Ambedkar, Shri. Manohar Joshi & Mrs. S. S. Mujumdar