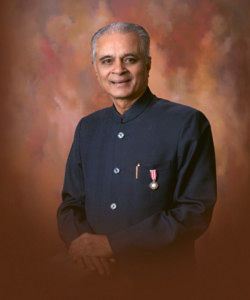 Dr. S. B. Mujumdar

President & Founder Director, Symbiosis
Chancellor – Symbiosis International University

Founded by visionary Dr.S.B.Mujumdar in 1971 as an International Cultural and Educational Center, with a view to imparting the spirit of co-existence to students from African and Asian countries. Symbiosis provides a "home away from home" to foreign students who come to Pune in pursuit of higher education. Living up to its name, which is a botanical term meaning "living together for mutual benefit". Within a short span of 44 years, Symbiosis has established itself as a premier educational institution in Maharashtra. Symbiosis has blossomed in to 36 different branches imparting education in about 176 different courses and has student strength of about 33,000 on campus. The students from all the States of India as well as from other 85 countries are studying in different institutes of Symbiosis.
Today, Symbiosis is known in India and abroad as one of the best educational institutes imparting quality education in various fields such as Management, Law, Computers, Health Care, Arts & Commerce and Distance Learning. Symbioisis believes in 'Vasudhaiv Kutumbakam – The World is One Family' and therefore Dr.S.B.Mujumdar, Founder Director of Symbiosis, decided to erect a memorial and museum of Dr.Babasaheb Ambedkar, a great Son of India who does not belong to a single caste or creed. All Indians have affection and respect for him.
One of the objectives of this museum and memorial is to introduce Dr.Babasaheb Ambedkar, who initiated the movement for social justice and equality in India to the foreign as well as Indian students so as to inspire them when they return to their own countries.